Businesses have repeatedly demonstrated their capacity to adopt and adapt to changes in business practices, statutory regulations and technology. The flexibility and technical proficiency this demands is part of the professional DNA. However, in the digital age, the speed of change and its fundamental nature can make keeping pace difficult, even for the best resourced and tech savvy company. The ways in which accountants and their clients connect, collaborate, and communicate are being reshaped and these strategies are in need of a reset for the evolving digital age. Today, more than ever, a proven solution is needed to connect accountants and their clients and bring together individual components such as Apps, logins and portals into a centralised place that's easily recognisable in the firm's brand.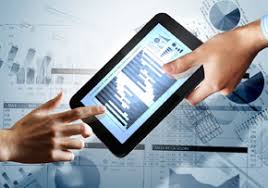 The move to digital technology has become a mobile first experience with over 900 billion hours spent on Apps last year, and the number of Smartphone users expected to reach 48.26 million in the UK this year. Because Apps are being used for all kinds of business activity, their sheer number on Smartphones and tablets is giving rise to a new problem.
Own the digital relationship with your clients
Across the globe, accounting firms have been giving away control of their client base to software companies and as a result, the emotional bonds between business owners and software houses are intensifying.
A key question to ask is who owns the client digital relationship? Accountants need to protect their position as the most trusted adviser and rather than giving away control of the data associated with Cloud bookkeeping and accounting software, they should adopt a strategy that puts them right at the centre of that client relationship.
A simple and straightforward way to add value and to make interaction easier is have a firm branded App. Giving a powerful single App to a client for free that acts as a single contact point for all things financial, sends out a very strong message that the accountant is embracing change and wants to interact with in the way most businesses prefer on their Smartphones.
The App creates a connection between the firm and the client at all times with their own tax data and key financial dates stored within and with access to useful tools such as GPS mileage tracking and receipt management. All online portal and accounts software logins can be held in it too, creating a single interface the client needs.
We believe that putting the accountants' interests first and building a powerful differentiator strengthens unique client engagement and provides the strategic framework needed to gain control of this new App world.
The potential for the accountant to take on the new role of App integrator by bringing everything into one single environment, the firm's own App will simplify the client's life and add more value. With a pro-active digital strategy, the firm can choose which Apps to make part of their clients' Add-on community and as a result, strengthen the relationship.
For all your business and accountancy needs give us a call on 0161 2056655 or send us an email info@stanleycarter.co.uk or check our website for further details www.stanleycarter.co.uk